For Bronx Art teacher Cheriece White, personal expression begins with pixels, not paint.
White discovered art in high school but it wasn't until she discovered multimedia design in college that she found her passion. Upon graduation she took a job at Apple, where she worked for a year, before deciding that teaching was what she really wanted to do.
"I wanted the visual arts to continue to grow," said White (pictured below), a member of the United Federation of Teachers. "That's my mission, and I think it should be everyone's mission, to really listen and to see what these kids are doing in their free time and to help them grow from it."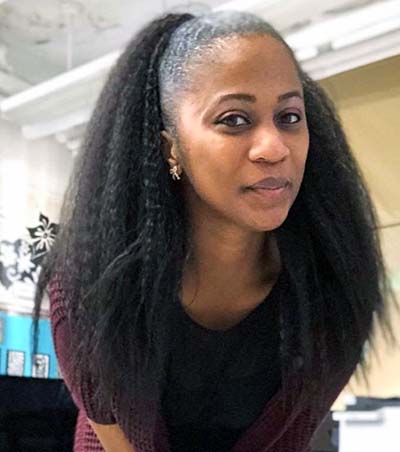 Cheriece White
She pitched her digital media background to numerous schools before she was finally hired as an art teacher. "A lot of schools said, 'That's not visual arts. We want painting and crafting,' she said. But White persisted, and eventually, she found success at Metropolitan Soundview High School, where she was the first hire in their new art department.
"I started back in 2013, when social media was just booming, but there was not anything available for students about media design or content creation. I saw a void," White said. "I wanted to create a curriculum where kids are able to tap into the artistry of what visual arts and graphic design can do."
The classes she created cover both the art and the craft of multimedia arts, showing students how to use computer programs to create brand elements like logos, social media graphics and videos. The classes are composed of project-based lessons, during which students learn everything from market analysis to color psychology. White said her students wind up feeling invested in the lessons because in the end, the brand they have invented is their own.
"Giving them all that freedom, and having it be student-led, it is just beautiful to see the results," she said.
Throughout the pandemic, many teachers have built out bitmoji, or digital, classrooms; White built out an entire bitmoji school, and then helped her colleagues design and implement their own bitmoji classrooms. To help students stay engaged during virtual learning, White also created a series of videos featuring student-created content.
Metropolitan Soundview High School boasts strong student diversity — 98.4 percent of students are students of color — and a small, tight-knit student body with a higher-than-average teacher-to-student ratio. Unfortunately, students in the school face significant disadvantages, too, including a high degree of poverty and a below-average graduation rate.
White said while some of her students are not college-bound, that does not mean they cannot be successful or find a career that is stimulating – and it could start with the phone that is right in front of them.
"They are on social media every single day, but when is it beneficial for them? When is it lucrative?" White decided to use this as an entry point and develop new career paths for students who might not otherwise see themselves in a creative field.
Since then, White has taught hundreds of students to hone their craft and put the best version of themselves forward. In so doing, she has expanded the definition of visual arts.
By Molly Belmont